Give the Gift of
Deep Listening
In my line of work, I am frequently asked, "What can I do to best help a friend or loved one who has recently experienced loss? I want to give a gift that really means something and helps."
I understand how this feels, wanting to offer a meaningful bereavement gift as an alternative or complement to flowers and food. I know that the gift of being heard is healing.
Consider a Gift of Listening. A gift of listening is a lovely way to provide your friend or loved one with some much-needed support during a challenging time.
A Grief Listening Session allows someone to share the challenging and confusing emotions they are experiencing, stories of their loved one, questions about the grieving process, and anything in their hearts.
My role is to listen deeply, hold a comfortable, safe space and help them understand their grief: no pressure, just space and warmth. 
A Grief Listening Session is 50-minutes in length and costs $60. After purchase, you will receive a gift certificate that you can download to print or email.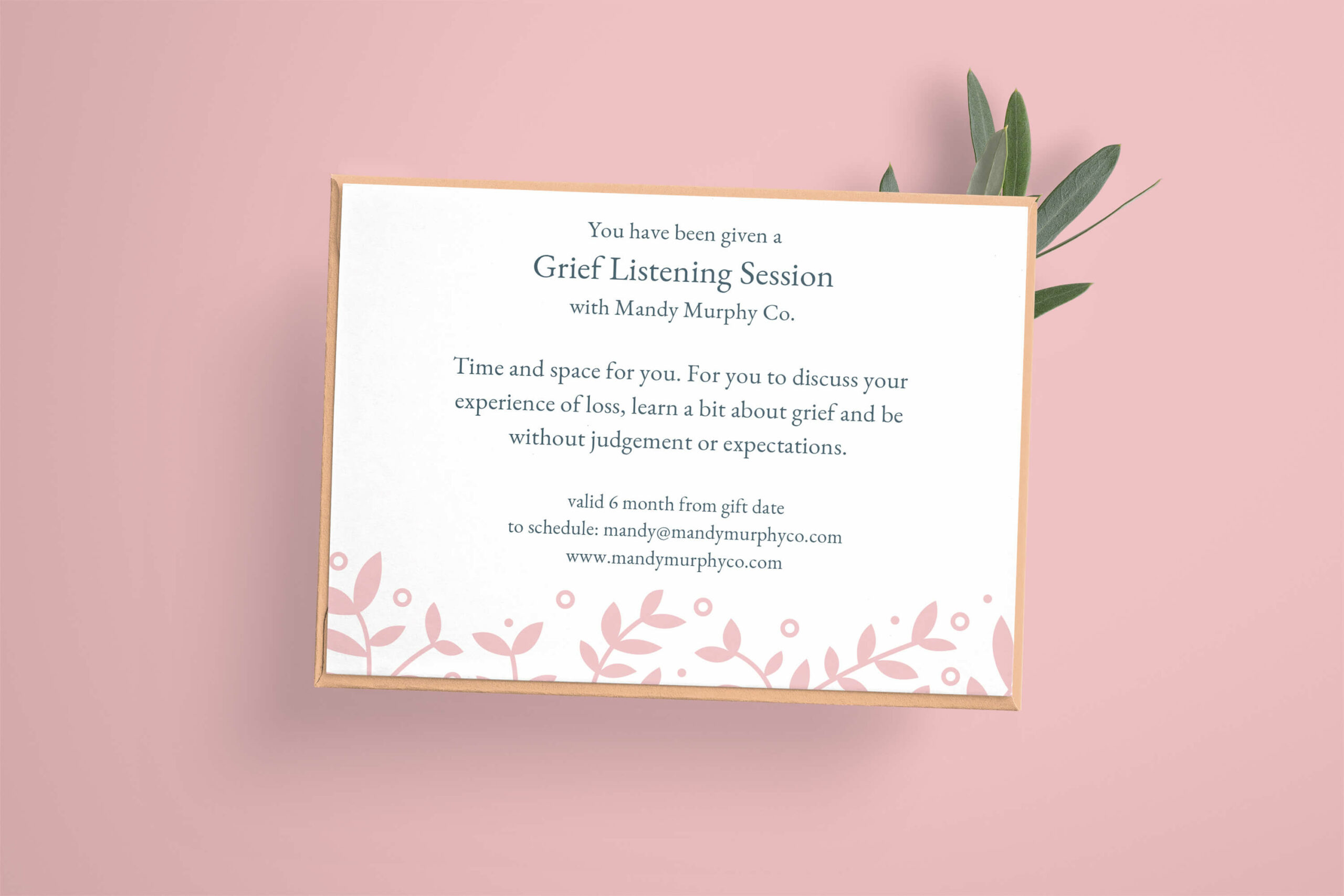 *We never sell or give away contact information collected on this website.
After my father passed away last summer and a friend experienced the loss of both parents in quick succession, I became acutely aware of how the grieving process impacts each person differently. I also became aware of how hard it can be to truly show your support with a card, flowers, or a call – although these are appreciated, it can feel inadequate at a time of significant loss. During this time, speaking to Mandy reminded me that sometimes what you need most is someone to hold space with you, to listen while you try to work out all of the emotions you are experiencing. That is what Mandy can provide. At a time when there are so many questions, you don't always need answers; you need the support of a skilled listener like Mandy, who can help you process your experience of loss on your timeline and your timeline alone. Mandy has a true gift for holding this space.